Guide for the ConfTool Support Forum
Welcome to the ConfTool Support Forum
In this support forum we compiled many of the questions we received from our clients. If we think the matter discussed may be of interest to other ConfTool users as well, we will present the solution here.
In addition, this support forum provides detailed instructions to elaborate in greater detail the ConfTool documentation on the website.
ConfTool staff members only create all boards and topics in this forum, including all replies/answers. It also means that only ConfTool staff members can log in to this support forum, for all other person the forum is "read only".
In case you cannot find what you are looking for, write an e-mail to and describe your problem at hand. We are happy to help you!
Information Provided in the Support Forum
If you are new with ConfTool, we recommend having a look at our regular "ConfTool Documentation" first. You can find it on our main webpage. Please navigate the website using the main menu (see screenshot 1). If you cannot find the information you are looking for in the regular documentation or if you are looking for a very specific topic, our support forum is probably the right place for you. Please note that most topics in the forum are addressed to conference organizers or administrators.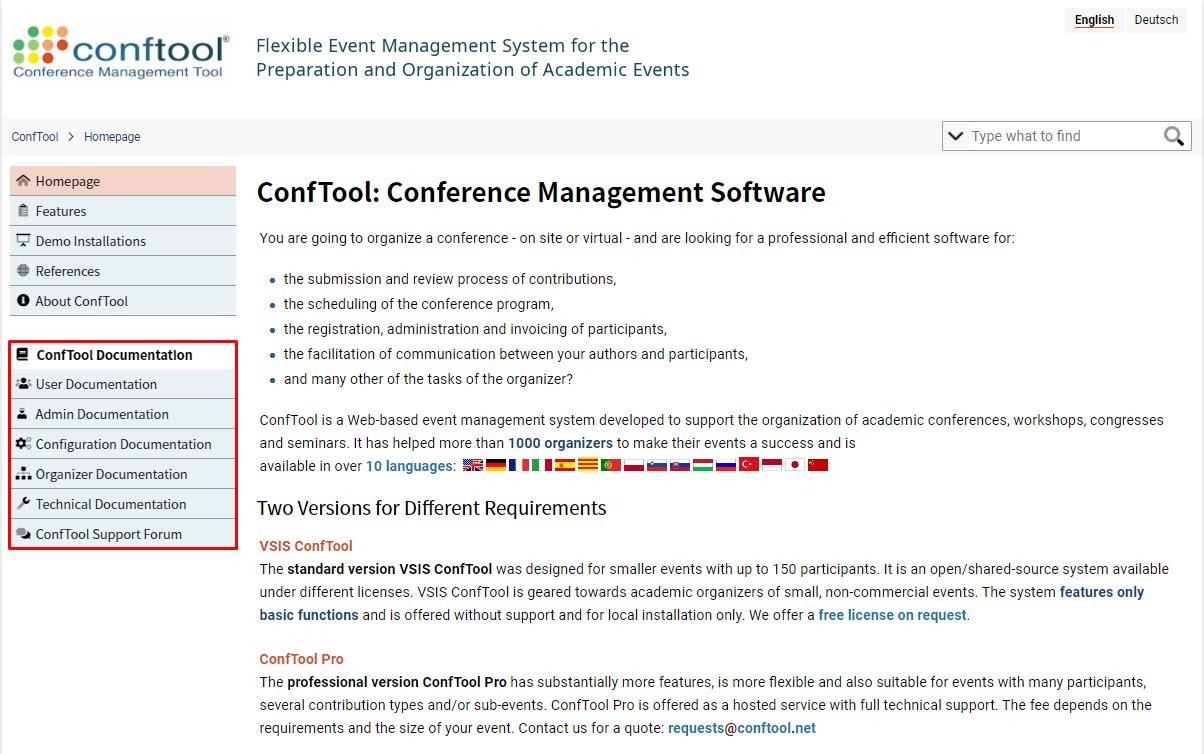 The support forum consists of three main sections: "Use of ConfTool", "Installation and Configuration of ConfTool", and a section for German speaking clients with translations of the most frequently asked questions (see screenshot 2).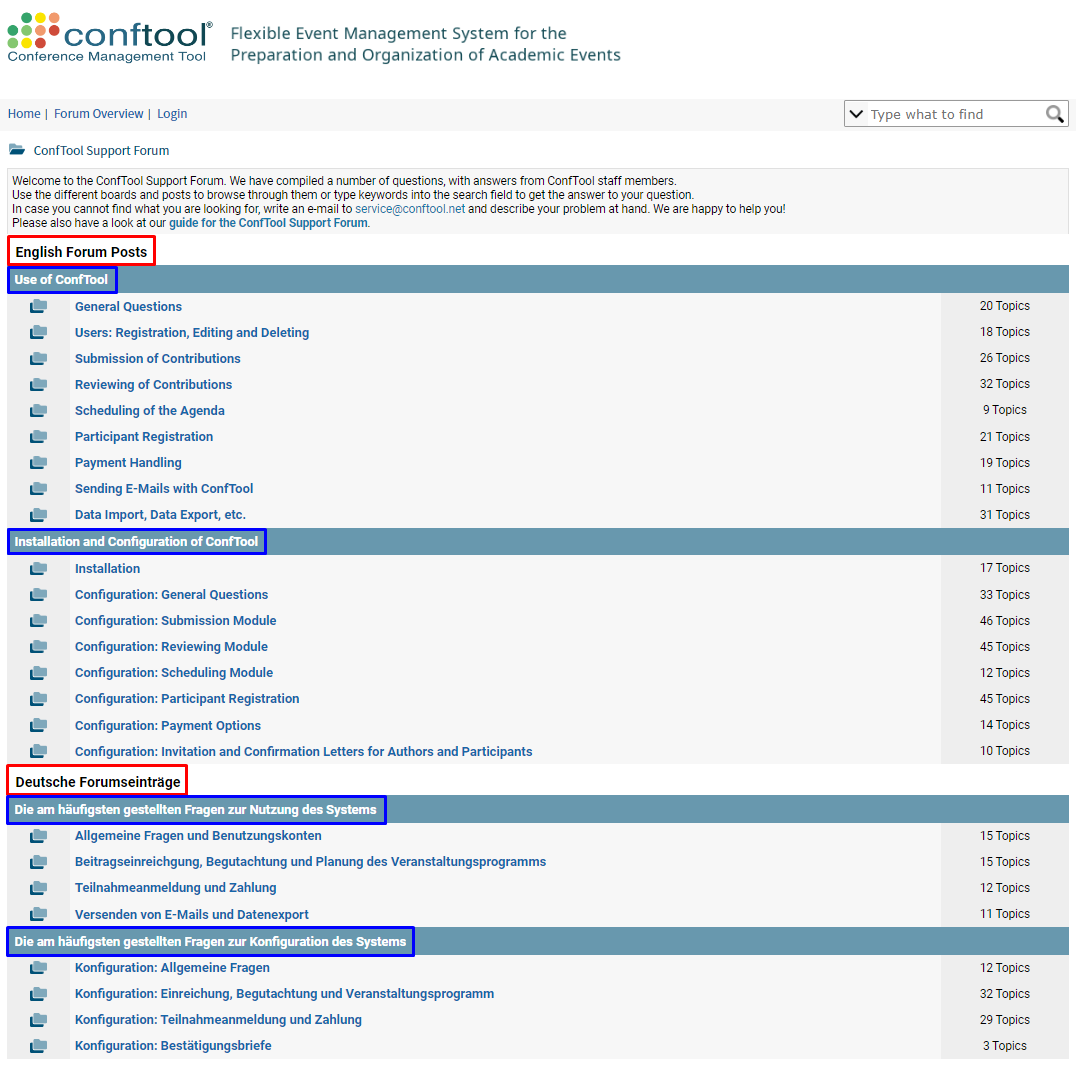 While you are working on the configuration of ConfTool as administrator, the section addressing questions related to the configuration of your installation might provide the answers you are looking for. Its boards refer to the main modules of ConfTool (submission and reviewing of contributions as well as participant registration and management) and some other important topics (for instance payment options or letters to authors and participants). Moreover, you can find technical instructions in the "Installation" board if you (or your IT department) need additional information on how to install and host ConfTool (standard version) locally.
If your question is not directly related to the configuration or the installation is already up and running, the section "Use of ConfTool" might have the answers you are looking for. Again, there are different boards for specific applications, such as user registration, submission of papers, review process, participant registration or payment handling.
How to Navigate and Search the Support Forum
Please use the boards and topics as guides to navigate through the support forum, to give yourself an overview and to find posts relevant to your question. The title of each topic should help you to identify the significance for your problem or question.
To find a topic of interest anywhere in the form quickly, we recommend using the search function on the ConfTool website (see screenshot 3). It allows to search all information available, the main website (documentation), or the support forum (specific answers) only. You can also choose between English and German results. Further instructions are available on the "ConfTool Search Page".
Please try to use search terms that divide your topic into simple concepts or single subjects and verbs. As with searching any database, please avoid long phrases or sentences when you start your search on the ConfTool support forum page. Please simply pick out words that indicate the main points of your question or field of interest.